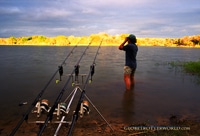 I've been using Delkim alarms and products since the very beginning and can honestly say that I have never faltered in my absolute confidence in them. For many decades I have tried & tested almost every other kind of bite alarm and indicator set-up offered by competitor companies, both in UK and abroad, but nothing has yet matched the build quality and total reliability of Delkim.
Delkim has never rushed to get their products on the market and I have always valued their ability to test everything to the limits before releasing a new or updated product. The latest extremely high quality Txi models show that they have no equal!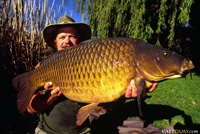 I fish for carp and other big fish species in all types and sizes of waters worldwide. I am continually confronted by every conceivable obstacle and weather condition possible in my yearly quest to turn dreams into reality. I am often in wild locations far from back-up, so it is vital that all my gear keeps on going through extreme weather, and is always robust enough to never stop working at the vital moment. Wherever on this planet I happen to be; come rain or shine, ice or snow…I always know that I can completely rely on DELKIM.
And that beautiful Delkim sound…it is always in tune with my passion!