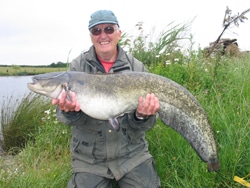 My name is Rick Gibbinson. I have been a Carp Fisherman for what seems like a lifetime and have been friends with the Del part of Delkim for just about as long. From time to time Del has asked if I would assist him by field testing a new innovation and I have been happy to do so. I have tried not to let our friendship get in the way of the truth and have therefore always been totally honest in my assessment of whatever I was testing at the time. Del, for his part, has always treated my opinions seriously and acted swiftly and decisively when appropriate.
I am of course not always right. I got it spectacularly WRONG when I told Del in 1990 during the early stages of the development of the now legendary Delkim bite alarms that "He would never replace the wheel". What do I know!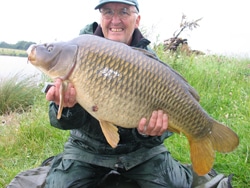 We have had one disagreement "product wise" during our friendship. I did not like the original NiteLite hangers and I chose not to use them. Del takes my criticism in a positive way and being a perfectionist I was not surprised to find that he had already started development of the latest creation (or improved version). The new NiteLite Pro is a different product entirely. It is smart, robust and does exactly what it says on the tin. Hundreds of hours of field testing, in all conditions, have gone into the development and only the very best components have been used in manufacture. The clever magnetic ball clip tension is perfect for all situations. Weights can be added with confidence when required. I rarely added weights, the addition of the clever DuoCarb eliminated "indicator creep" completely. I fished lakes up to 20 acres in near gale conditions. Another bonus when using the DuoCarbs is that they enable the use of the currently popular slack lines with absolute safety. Added to this the whole system looks very impressive, surely a must for all tackle tarts!
I have one small confession to make. Although I rarely fish at night I do stay just into darkness and during these periods I found the night marking on the combined Delkim bite alarms & DuoCarb hangers strangely comforting. Weird I know.
Delkim products are extensively field tested prior to them being introduced onto the market. Now there's a novelty!